Asia Education Leader Forum 2022 Winter: Reimaging the Future of Higher Education in Asia
The Asia Education Leader Course successfully held the Asia Education Leader Forum 2020 on March 12, 2022. The theme of this Forum is Reimagining the Future of Higher Education in Asia. It aimed at exploring new features of future higher education in Asia. Based on a keynote speech on Minerva University, participants are invited to jointly discuss the features and possibilities of a shared future of higher education in Asia in the era of post-COVID.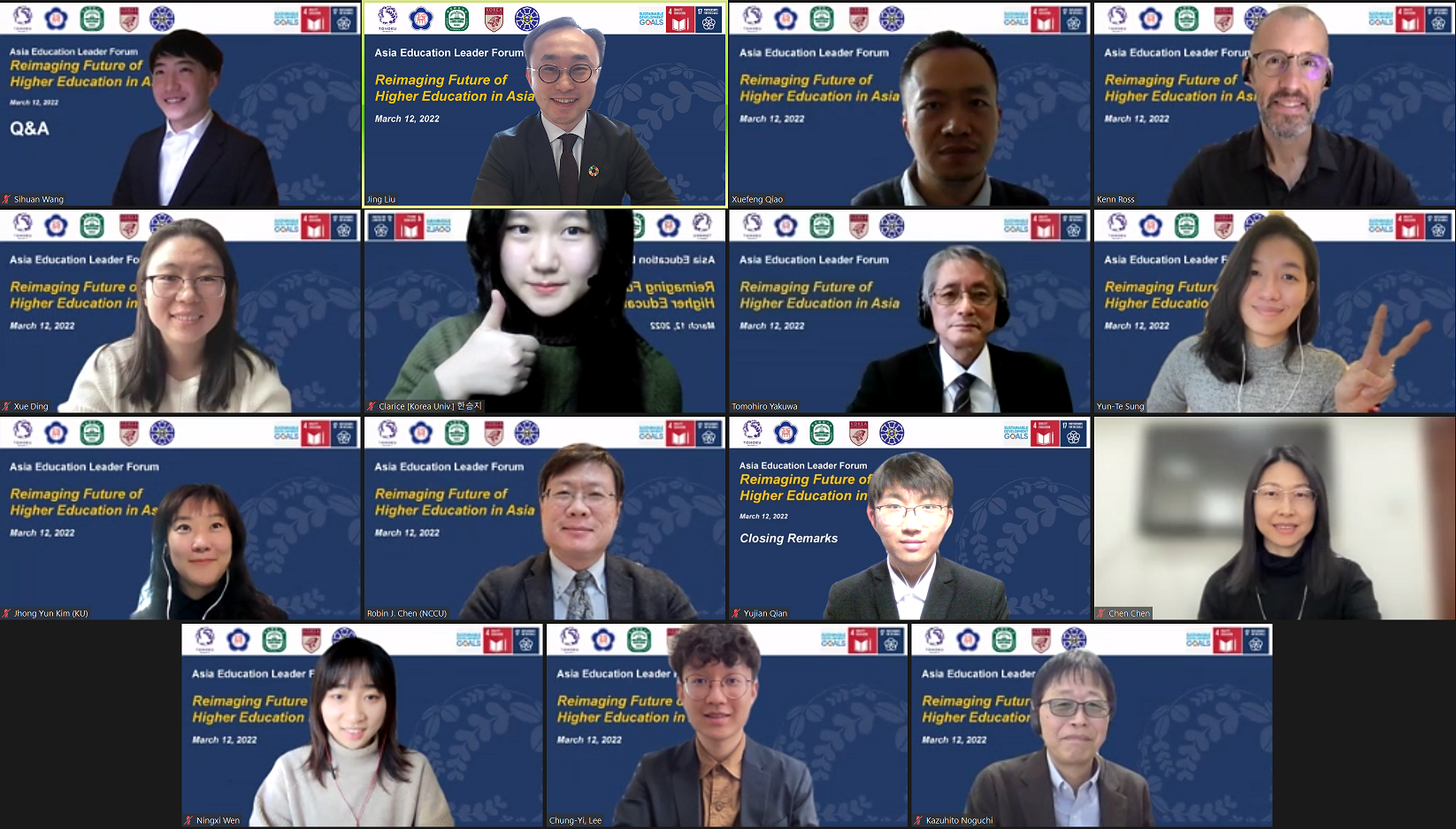 The Forum started with an opening address by Dr. Tomohiro Yakuwa, Dean of the Graduate School of Education, Tohoku University. Then, we were pleased to invite Mr. Kenn Ross, Managing Director Asia, Minerva Project, and Ms. Yun-Te Sung, Business Development Representative Asia, Minerva Project, to share their experiences and insights of Minerva University and Minerva Project in terms of how to nurture critical wisdom for the sake of the world. Mr. Ross introduced the model of Minerva University, including interdisciplinary curriculum design, fully active learning instruction, outcomes-focused feedback & assessment, and Forum as a hybrid learning platform. By sharing learning experiences of Minerva education, Ms. Sung presented us how she took part in the brain training of how to FIGHT at Minerva University.
Following the keynote speech, AEL students led a panel discussion on the following two questions,
Q1: What makes higher education truly "innovative" is not technology but improvement in the pedagogical process. How can the instructors practice a learner-centered perspective in higher education? How can they be improved at colleges, especially within a digital environment based on the following topics?
Q2: Cooperation between higher, secondary, and primary education are called for cultivating students' competence before entering tertiary education. What are the abilities to be learned pre-higher education, and how can the schools and society cooperate in providing opportunities for the students to learn?
AEL students, keynote speakers, and faculty members from AEL partner universities joined the exchange and discussion. The Forum ended with a closing remark by Dr. Kazuhito Noguchi, Vice Dean of the Graduate School of Education, Tohoku University.
Our special thanks go to the following AEL students and faculty members who joined this Forum and actively participated in the discussion.
AEL students
Mr. Yujian Qian (School of Education Science, Nanjing Normal University)
Ms. Xue Ding (School of Psychology, Nanjing Normal University)
Mr. Chung-Yi Lee (College of Education, National Chengchi University)
Ms. Clarice Seungjie Han (Department of Education, Korea University)
Mr. Sihuan Wang (Graduate School of Education, Tohoku University)
Ms. Ningxi Wen (Graduate School of Education, Tohoku University)
Ms. Fang Gao (Graduate School of Education, Tohoku University)
Faculty member of AEL Partner Universities
Dr. Robin Chen (College of Education, National Chengchi University)
Dr. Xuefeng Qiao (School of Education Science, Nanjing Normal University)
Dr. Chen Chen (School of Psychology, Nanjing Normal University)
Dr. Jongyun Kim (Department of Education, Korea University)
Dr. Jing Liu (Graduate School of Education, Tohoku University)